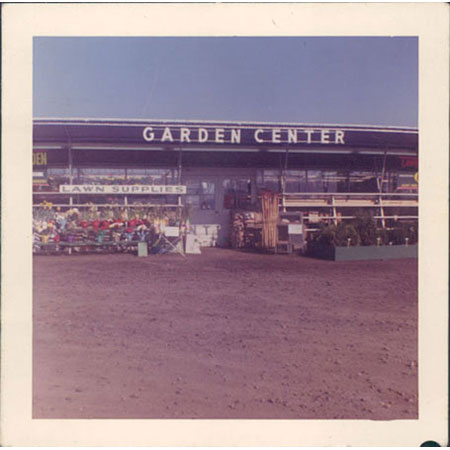 It all began in 1963 at 1915 Troy Street with a very old 96x40ft glass greenhouse – which dated back to the turn of the century.
Our owner and founder, Pete Kossoudji, and his wife Shirley, had always been avid gardeners – in particular growing vegatables – and the doors to North Dayton Garden Center first opened in March of 1963.
For several years, Pete and Shirley worked tirelessly to build up the business, while Pete also held down two factory jobs during the early years. The hard work paid off, and during the 1970's they established themselves as one of the premier garden centers in the Greater Dayton area.
In 1984, improvements to SR202 saw most of the parking lot taken away from the property to widen the road.
Since they had outgrown the relatively small two acre lot, it was time to move the business to a location with room for future expansion.
Today, our location at 1309 Brandt Pike has over 10 acres for your viewing pleasure. We've grown from around 7 greenhouses and 10 Hoophouses in 1984 to around 15 greenhouses and 20 Hoophouses in 2010 – including our new vegetable and perennial greenhouses that are state-of-the-art climate controlled (last photo, bottom right).
To this day, Pete and Shirley – who are now closing in on their 56th wedding anniversary – still maintain an incredibly strong work ethic.
So does Rick, their son – who has worked at North Dayton Garden Center since he was 5 years old – first helping his dad after school and during summer breaks to eventually working in the business full-time at age 17.
Rick is married to Lisa and they will be celebrating their 30th wedding anniversary this year. They have three daughters and one son. Rick and Lisa's daughters also work in the family business.
Through sheer hard work, North Dayton Garden Center has grown into a mature business over the years – but none of this would have been possible without the support of the local community and our loyal customers.
We're very proud that so many of you have continued to shop with us year after year, and we'd like to take this opportunity to say "thank you Dayton".
And if you've never paid us a visit before, we hope you'll stop by and see us sometime this season…
"…and remember, we're open 7 days!" – Pete and Rick Kossoudji