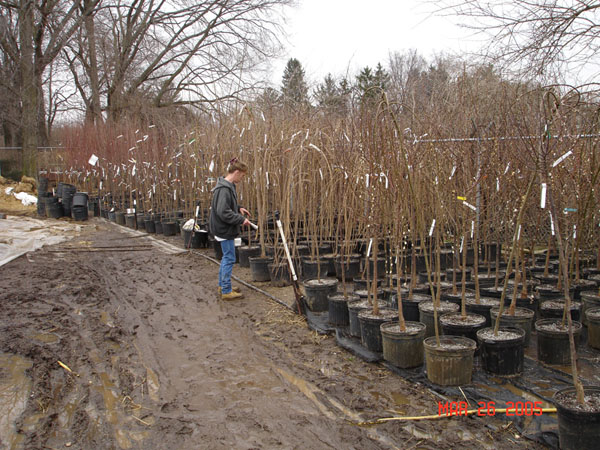 We carry over 5,000 trees of all types – Shade Trees, Fruit Trees, Dwarf Japanese Maples, Weeping Cherry, Dogwoods, Crabapples, Redbud, Maple, Oak, Linden, Sycamore, Elm, Sweetgum and more…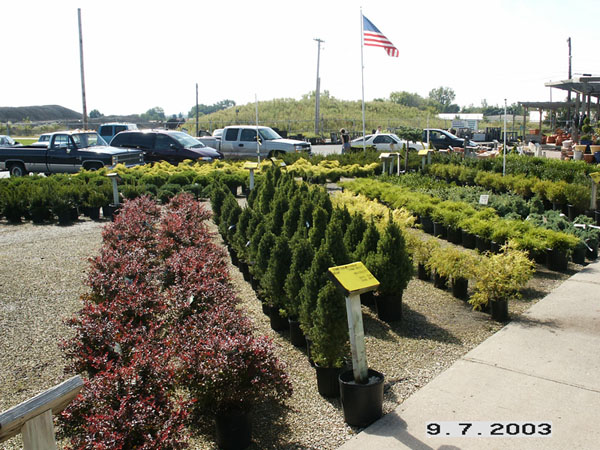 Compact Burning Bush, Emerald N' Gold Euonymus, Forsythia, Dwarf Fothergilla, Vernal Witchhazel, Little Princess Spirea, Snowmound Spirea, Goldflame Spirea, Goldmound Spirea, Neon Flash Spirea, Dwarf Korean Lilac, Persian Lilac, Oldfashioned Lilac, Hydrangia, Pottentillia, Weigela, Viburnum, and many more…e…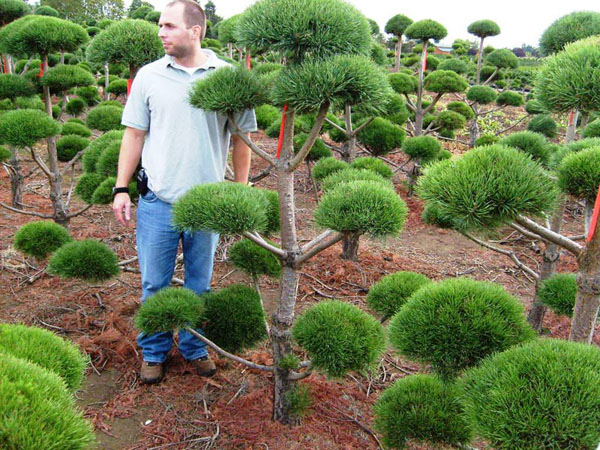 Including Norway Spruce, White Spruce, Dwarf Alberta Spruce, Serbian Spruce, Colorado Spruce, Mugho Pine, Different varieties of Yews, Dark Green American Arborvitae, Emerald Green Arborvitae and Canadian Hemlock, Pom Pom Pine, Boxwood, Holly, Dwarf Globe Blue Spruce, Rug Junipers plus Upright Junipers, White Pine, Austrian Pine, Scotch Pine.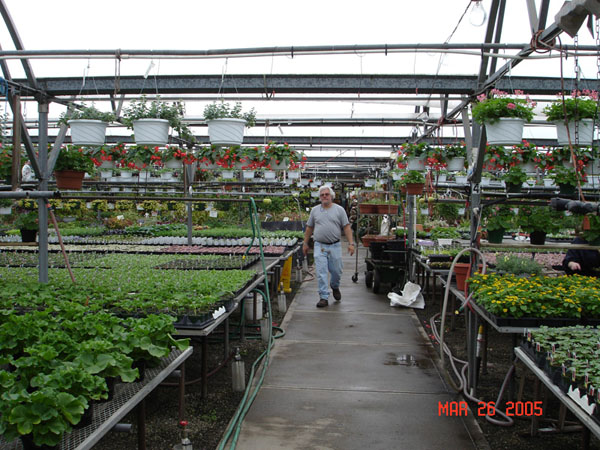 Over ten thousand "HomeGrown" perennials on hand during Spring, from quart pots to two gallon sizes, including (but certainly not limited to) Cone Flowers, Daisies, Daylilies, Peonies, Manarda, Salvia, and much more…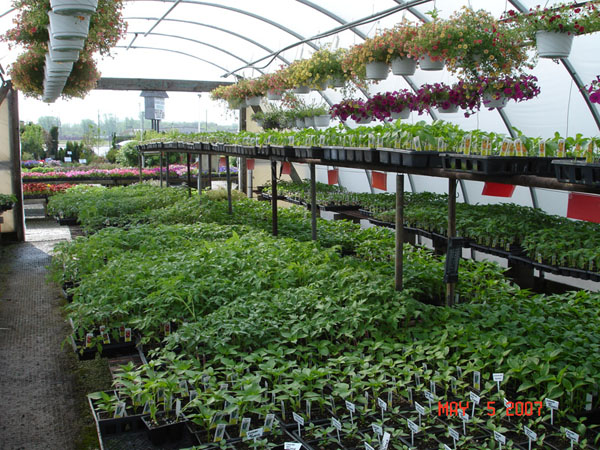 "HomeGrown" Tomatoes, Peppers, Cabbage, Broccoli, Cauliflower, Onions, Rhurbarb – all grown by Rick and Pete in our Center!
ANNUALS AND HANGING BASKETS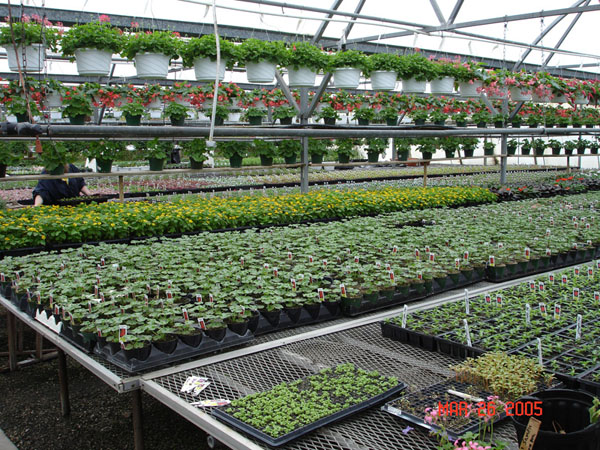 "HomeGrown" Hanging Baskets containing Ivy Geraniums, Fuchsia, Streptocarpellia, Evolulas, Calibrachoa, Wave Petunias and all types of Begonias – as well numerous Annuals in flats.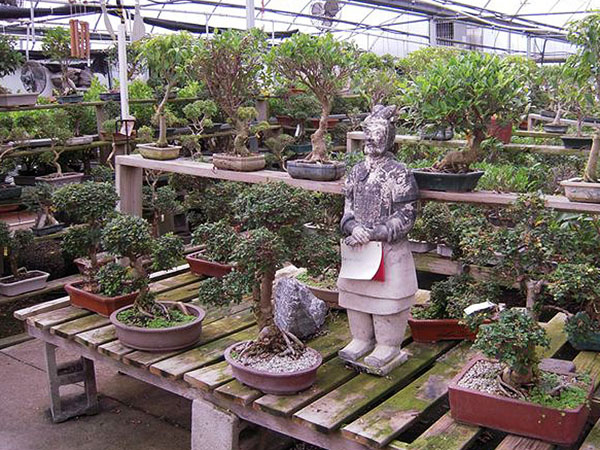 Possibly one of the best collections of Bonsai in the Ohio Tri-State area – from young Bonsai starters to mature 80 year old trees… and all selling at great sale prices – remember to check our coupons for additional savings!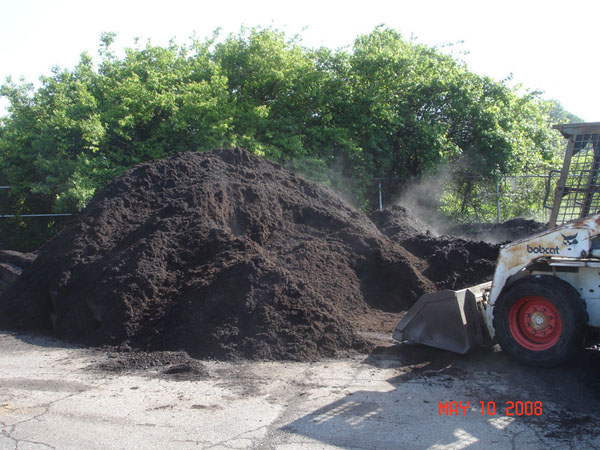 Mulch – double processed and triple processed; Bags of Hardwood Mulch including Cypress, Cedar Mulch, Dyed Black and Red Mulches (2cu. and 3cu sizes available). **  Unfortunately, we are not able to sell bulk mulch at this time **
Cow manure, compost, peatmoss, organic peat, top soil, sand, earthworm castings, pro-mix professional potting soil, Miracle Grow Potting Soil and Miracle Grow Garden Soil as well as lime, gypsum, perlite, vermiculite – all in bags to be loaded into your car, truck or van!
Grass seed – all types including our own "Green Mat Grass Seed". Scotts fertilizer products, feeds, weedkillers, fungicides, and the knowledge to teach you about their use.
HAND TOOLS – POTTERY AND STATUARY – BIRD FEEDERS AND MORE…